Last night, Advanced Solutions hosted a great tour last night of the BioAssemblyBot for the members of TALK (and anyone else who was interested in signing up for this free event). The BioAssemblyBot (or BAB, as she's affectionately known) uses biological "inks" (any form of liquid bio-matter) to assemble organic tissue in any shape from any angle thanks to its six degrees of articulation.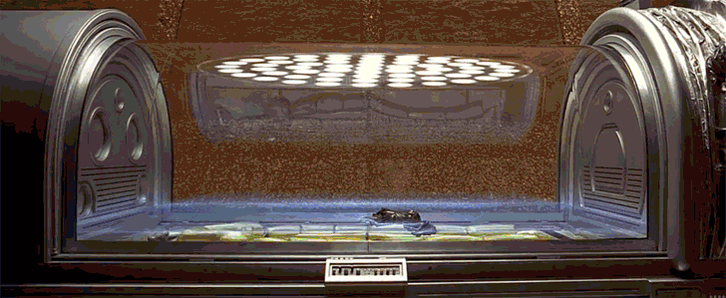 Okay, so it can't actually recreate Leeloo from The Fifth Element like the image above (click for animation), but it can create some amazing biological constructs. Besides their eventual goal of creating on-the-spot organ transplants (in the US alone, 22 people per day die while waiting for organ transplants), it's great for medical and pharmaceutical research. Being able to exactly replicate hundreds of cells exactly the same way, or with intentional slight variations, make it so much faster and easier to find the right "recipe" for a medicine, and with definably repeatable results.
Michael Golway, the President and CEO, walked us through the what the bot does, and how it does it. He joked that, "It's so easy, even a physician could do it." While he was talking, their machine 3D-printed a heart valve for us (that I got to take away as a souvenir!), in just a few minutes.
Here are some other cool medical/biotech companies in Louisville:
• MobileMedTek, creating a portable turbo-charge EEG (their president Dave Kennedy also judged our Startup Weekend a few days ago)
• Inscope Medical, creating an easier and smarter scope for intubation
• Xlerate Health, the accelerator for medical startups
• Neuronetrix, giving neurologists a peek inside your brain (the owner Dr. John Barker is also doing incredible work regenerative medicine)
• Whip-Mix, creators of dental bionics
• …and several that I don't have much direct experience with (Genenscape, MedVenture, RhinoCyte, Apellis, and others)
To learn more about medical technologies, experts, issues, and events, get involved with the Health Enterprises Networks (HEN), Louisville's healthcare chamber of commerce. They consistently host great events, and help all the right people meet each other.
Some good healthcare/biotech events:
• TechFest (blending biotech, gadgetry, software, business, and more)
• Innovation Summit
• Southeast Christian Church's Medical Missions Conference
• KY Association of Healthcare Facilities Trade Show
• the Oral Health Summit
• …and pretty much everything that HEN does